The 2018 MCE Insurance Ulster Grand Prix is less than a month away and the anticipation is certainly building.
Following a TT that saw Peter Hickman demolish the outright lap record to win a thrilling Senior TT finale ahead of Dean Harrison, the 7.4011 miles of Dundrod tarmac is the next meeting ground for these road-racing heavyweights.
Peter, UGP Man of the Meeting in 2017 and now the world's fastest rider, secured podium finishes in four classes, three of which were as race winner.
Commenting on his and Dean's recent form Peter said:
"Obviously I had my first win at the North West this year and followed this up with a host of firsts at the TT, the highlight of which was achieving a new lap record in the Senior Class. The aim is always to win at the slowest pace possible but Dean was flying and 135mph was the only speed I could do to secure the win! "
Hickman credits Dean's speed with his experience of competing at the BSBs, commenting:
"A few years ago I told Dean that if he wanted to get faster he needed to come to the BSBs. It's a faster style of racing, with top level riders, bikes and teams and I think if you can ride at the BSBs you can ride anywhere.
"In hindsight I wish I'd never mentioned it to him…he's been giving me grief ever since!"
Although disappointed to lose his lap record, Dean is very much focused on race wins rather than records commenting:
"Lap records are there to be broken but with race wins your name is forever etched on that trophy and cannot be taken away from you. I'm looking forward to getting out there but I'm definitely not counting my chickens! There are at least 10 other riders who all have a chance at that podium and based on how well the teams are all performing it won't be easy out there."
Clerk of the Course, Noel Johnston commented:
"Both riders have had an incredible year to date and are returning to the Dundrod circuit confident and with a plethora of race wins under their belt. They are both at the top of their game, which will no doubt make for some very exciting, and edge-of-your-seat racing for fans.
"We have two days of international racing this year, with 11 races taking place across the Thursday and Saturday. There are over 100 riders participating and it promises to be the perfect climax to the international road-racing season."
The MCE Insurance Ulster Grand Prix Bike Week runs from the 5th – 11th August 2018 and wristbands can be purchased via www.ulstergrandprix.net.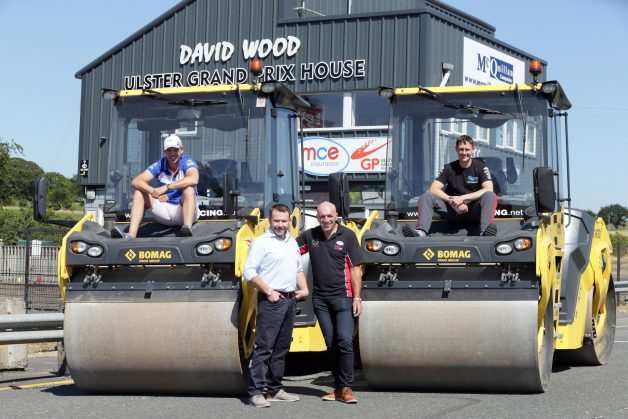 Peter Hickman and Dean Harrison are joined by Clerk of the Course Noel Johnston and Superbike Race sponsor Eugene McManus (MMB Surfacing) as they take on a different style of machinery at the Dundrod circuit.