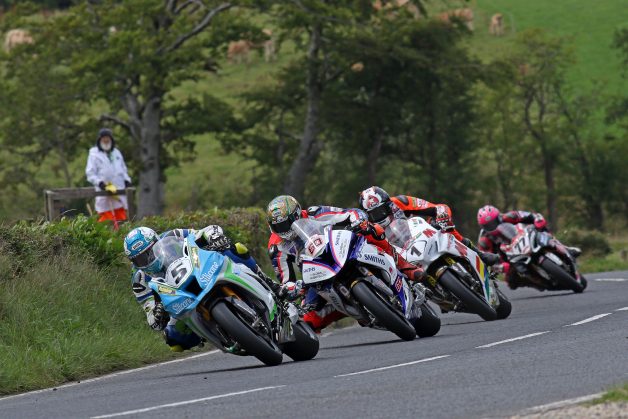 RACES
THURSDAY
CIRCLE K AIRPORT ROAD SERVICE STATION SUPERBIKE RACE (1) 5 LAPS
BELFAST INTERNATIONAL AIRPORT LIGHTWEIGHT RACE 4 LAPS
DGH RECOVERY SERVICES ULTRA LIGHTWEIGHT RACE 4 LAPS
SHOEI HELMETS SUPERSPORT RACE 5 LAPS
CASTLE MALL SUPERTWINS RACE 4 LAPS
SATURDAY
DALY'S HYUNDAI SUPERSTOCK RACE 6 LAPS
CENTRA WHITEMOUNTAIN SUPERSPORT RACE 6 LAPS
CHIMNEY CORNER HOTEL LIGHTWEIGHT RACE 5 LAPS
PLANT LUBRICATION (NI) ULTRA LIGHTWEIGHT RACE 5 LAPS
MMB SURFACING SUPERBIKE RACE (2) 7 LAPS
MAXWELL FREIGHT SERVICES SUPERTWINS RACE 5 LAPS
SKEGNESS RACEWAYSUPERSPORT RACE 6 LAPS
AROUND A POUND SUPERBIKE RACE 6 LAPS
RACE OFFICE
The race office is located in David Wood Ulster Grand Prix House, just inside the main gates of the race paddock. Facilities on offer include programme sales, general admission wristband sales, grandstand ticket sales, camping and motor home assistance etc.
OPENING HOURS
Friday 2nd August 5-8 pm
Sat 3rd. 2-6pm
Sun 4th 2-6pm
Monday 5th 10-1pm 2-6pm
Tuesday 6th. 10-1pm. 2-7pm
Wednesday 7th. 9-1pm. 2-9pm
Thursday 8th 8-1pm. 2-9pm
Friday 9th 9-1pm. 2-9pm
Saturday 10th. 8am
GENERAL ADMISSION TO THE EVENT
All adults (over 16) must purchase a wristband to access the event. The cost for week-long access to the circuit and the paddock is £30, wristbands can be bought in advance via our website, at the road ends on approach to the circuit or in the race office.
PROGRAMMES
Programmes are available at a cost of £10 from the following locations: Topaz Airport Road Service Station, Finlay's Whitemountain Service Station, the road ends approaching the circuit and in the paddock.
CAMPING
There is no charge for camping in tents but each adult must purchase a general admission wristband and programme. Anyone in the camping area can avail of toilets and shower facilities in the main paddock. Please make your way to the Race Office in David Wood Ulster Grand Prix House in the paddock when you arrive to book your space. Note that there is limited parking available for the camp.
MOTORHOMES & CARAVANS
The main park for motorhomes and caravans is located in Dawson's Field and beside the Joey Dunlop Grandstand. Spaces MUST be pre-booked by contacting Tom Best on 07754 178187 at a cost of £250 including electric hook up, 2 general admission wristbands and 2 programmes.
There is also limited availability for motorhomes and caravans without electric at Leathemstown for £100.
Spaces at Leathemstown are on a first come, first served basis and you cannot pre-book.
Motorhomes and caravans can also use the free car park in Desi Smyth's field, a 10 minute walk from the circuit. Please contact Race Office on arrival for more details.
GRANDSTAND SEATING
To book Joey Dunlop Grandstand contact 07922 902081
All other grandstand seating is on a first come, first served basis and can be booked by contacting 07922 902081
GRANDSTAND

COST

Joey Dunlop Grandstand (start/finish line with view of podium and big screen on Saturday)

---

£30 flat fee for seat on Wednesday, Thursday and Saturday.

---

Leathemstown Grandstand (with view of big screen on Saturday)

---

Wednesday – £5 Thursday – £10

Saturday – £20

---
CAR PARKING
Spaces in the car parks are allocated on a first come, first served basis include:
CAR PARK

CAR COSTS

BIKE COSTS

Car Park 3a –

Access from middle gate on Rushyhill Road

---

Wednesday – £5

Thursday – £10

Saturday – £10

---

Wednesday – free

Thursday – £5

Saturday – £5

---

Car Park 3b –

Gate 4 from Rushyhill Road

---

Wednesday – free

Thursday – £5

Saturday – £10

---

Wednesday – free

Thursday – £5

Saturday – £5

---

Car Park 4&5 –

Gate 5 from Rushyhill Road

---

Wednesday – free

Thursday – £5

Saturday – £5

---

Wednesday – free

Thursday – £5

Saturday – £5

---

Leathemstown

---

Wednesday – free

Thursday – £5

Saturday – £10

---

Wednesday – free

Thursday – £5

Saturday – £5

---