Organisers of the MCE Ulster Grand Prix have announced a special event with two-weight boxing world champion Carl Frampton and international road racing star Lee Johnston, to take place just days after Frampton's highly anticipated fight at the SSE Arena, Belfast against Mexican fighter Andres Gutierrez.
The diminutive and dynamic duo, who met just over a year ago when Co. Fermanagh racer Lee went to check out the Jackal's training regime in London, will be interviewed live on stage by the BBC's Mark Sidebottom in the Grand Prix Marquee on Wednesday 9th August.
The event will take place in aid of F13K Cancer, a charity founded by Lee that supports Marie Curie NI, with a minimum donation of £200 per table of 10.
Carl Frampton said: "When the Conlon brothers & the JDM Group invited me to take part in this event I didn't have to think twice, I have been friends with Lee now for over a year and I have enormous respect for both him and motorbike racing.
"It's a sport I enjoy watching and attending. All money raised from the evening is going to a fantastic cause in Lee's charity F13K Cancer and Marie Curie NI and I would encourage the racing community and general public to attend what's going to be a great night."
Lee Johnston said: "I'm really happy that Carl has agreed to get involved, he's a great guy at the top of his game and getting such a big name from another sport will help keep the charity in the spotlight and hopefully raise plenty of money as all proceeds will be donated.
"I think the bike fans at the Ulster will enjoy the night, we're expecting the tickets to sell quickly so don't hang about if you want to be there!"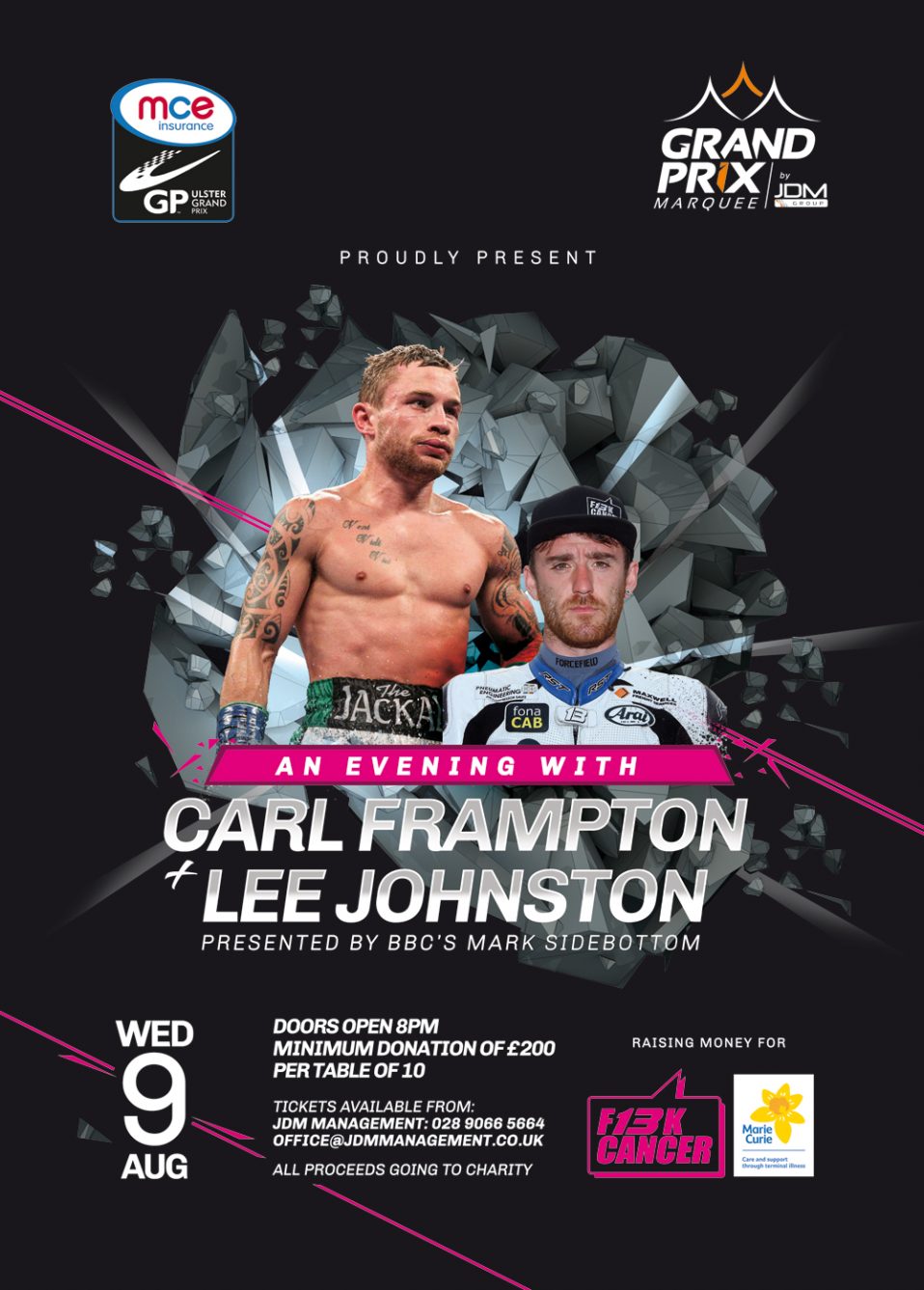 Noel Johnston, Clerk of the Course at the MCE Ulster Grand Prix added: "We're pretty excited about this, it's something we wanted to see happen last year but the timing didn't work out as Carl went on holiday immediately after his big fight against Santa Cruz.
"However, I do think that this will be worth waiting for and the craic will be mighty for those lucky enough to get a ticket for the event, and the first opportunity for many fans to hear from the Jackal after his big homecoming fight on 29th July.
"Lee is a hugely popular rider at Dundrod and I know a lot of people, me included, are hoping he will be back to fighting fitness by August after his crash at the TT. One thing is for sure though, the evening with him and Carl will be unmissable and I've no doubt it'll raise a lot of cash for a cause very close to Lee's heart.
"Thanks must go to our bar and entertainment partner JDM Management for helping us put this together," he added.
Tickets for An Evening With Carl Frampton & Lee Johnston are available to purchase from JDM Management on 028 9066 5664 or by emailing office@jdmmanagement.co.uk.
Bike Week runs from the 6th – 12th August 2017 and include the Charles Hurst Motorcycles Dundrod 150 and the MCE Insurance Ulster Grand Prix road races. Tickets are available now on Ticketmaster.