Good turnout last night at the annual Dromara Destroyers ride out.
Dromara Destroyers ride out took place on Tuesday evening. It has become a popular feature of FonaCAB (Belfast) Ltd. Ulster Grand Prix Bike Week.
The event attracted hundreds of road riders who enjoy the run from the Co Down village that road race legends Ian McGregor, Ray McCullough, Trevor Steele and Brian Reid call home, to the UGP race paddock via a lap of the iconic Dundrod circuit.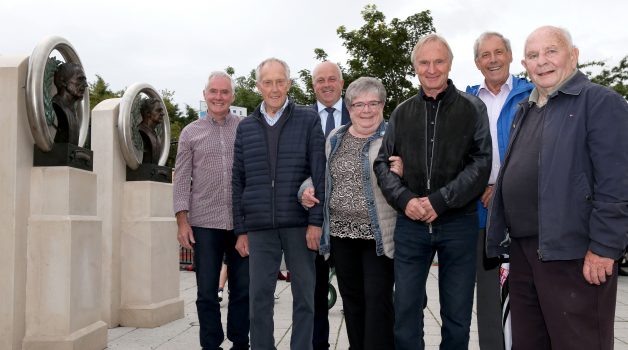 PACEMAKER, BELFAST, 6/8/2019: Road racing legends , Ian McGregor, Brian Reid, Ray McCullough and Trevor Steele of Dromara Destroyers fame pictured beside their statues before the start of the annual motorcycle run from the Co Down village to the Ulster Grand Prix circuit at Dundrod this evening. Also included are Ellie Wilson and Lisburn and Csstlereagh City Councillors James Tinsley and Uel Mackin.
PICTURE BY STEPHEN DAVISON