Ballymoney's William Dunlop is focused on making amends for another difficult season, by ending the international road racing season on a high at the MCE Ulster Grand Prix next month.
The 7-time winner at the Dundrod circuit was let down early in the year by Halsall Racing and says that while he's been playing catch-up ever since, he is approaching the world's fastest road race with his eye on a Superbike win.
Dunlop said: "I'm heading to the Ulster hoping to get five good finishes but it's the Superbike that I'm really going for. I know I'm capable but where the bike is going to be is a bit unknown right at this moment.
"We've a few new parts coming over the next couple of weeks, a test coming up this week and I've got Armoy as well to get things ironed out.
"I'm confident we're going to cure the problems we've been having and if we do I think I could be an outsider for the Superbike. It's the one everyone wants and the one everyone remembers and it's the only one I haven't won at Dundrod. It'd be great to have the complete set," he added.
31-year-old William came fourth in the Supersport at this year's TT, admitting it was a disappointing finish for him.
"This past two or three years I've been let down going to the TT so it's always been a disaster TT and then you're always looking at the Ulster to try and make amends, and this year is no different. Finishing strong puts you in a good position to try and get bikes for the following year which is important too.
"I was really disappointed with fourth on the 600 at the TT but I'm confident I can better that result at Dundrod. I know on a 600 I'll either win it or lose it on the last corner and that's the only thing I'm a bit worried about.
"Overall though, the circuit suits my riding style and I'm always happy and comfortable being there. It's an international that feels like a national event and I love that about it."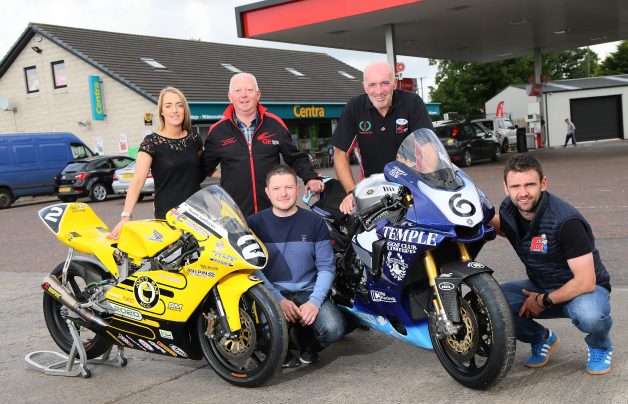 William's current tally of seven wins at Dundrod sits just two behind Robert Dunlop's record at the same circuit.
"It's a strange thing to think about equaling my Dad's record anywhere, because I always rated him as one of the best. I'm now sitting one above my Dad at Walderstown but that doesn't make me a better rider.
"It's a different set of circumstances too as he was injured for half his career. It's nice though seeing my name up there with his," he added.
William was on hand during the MCE UGP launch to announce a renewed sponsorship deal with Whitemountain Centra Service Station, who will once again back the first Supersport race at the MCE UGP.
Clerk of the Course at the MCE Ulster Grand Prix Noel Johnston commented: "My thanks to Sam and Danielle at Centra Whitemountain for their continued support, and to William for taking the time to help us launch the second year of their partnership.
"William is a talented rider and one of the nicest lads in the paddock, you have to feel for him with the run of luck he's had in the last couple of years.
"I'm glad to hear he's gunning for victory, as a bit of confidence is sometimes half the battle when it comes to the difference between winning and losing a race. Fingers crossed he can get any lingering issues with the bikes sorted in time for a proper run out at Armoy before getting to the Ulster."
Centra Whitemountain will run a family fun day on site on Friday 11th August between 2pm and 4pm including bouncy castles, slides, a Monster Energy Tyre Holding competition, food sampling, prize giveaways and Lucozade games.
Bike Week runs from the 6th – 12th August 2017 and includes the Charles Hurst Motorcycles Dundrod 150 and the MCE Insurance Ulster Grand Prix road races. Tickets are available now on Ticketmaster.