The Ulster Grand Prix; The World's Fastest Road Race – held for over 90 years and steeped in history. 

Many road racing legends have competed at Dundrod – and at the old Clady circuit before that – but who has won the most? Who has the fastest lap time? Who was the first ever winner? Here Hannah Hough takes a look at some of the key facts from the event's history.
The Past
First held in 1922, the Ulster Grand Prix has had a long illustrious presence on the road racing calendar.
It was initially held on a 20.5-mile circuit at Clady, before being reduced to 16.5 miles in 1947. Between 1949 and 1971 the race held World Championship status, moving to the 7.732 mile Dundrod circuit in 1953.
The very first winner at the Dundrod circuit was Werner Haas and since then many high profile riders including Tony Rutter, Darren Lindsay, Giacomo Agostini and Robert Dunlop have followed his lead and gone on to win multiple times.
Joey Dunlop is the most successful rider at the Ulster Grand Prix with 24 wins to his name, starting in 1979 and going right through to 1999. His most successful class was the Superbikes but with his talent he also excelled in the 250ccs.
The first rider to set a 130mph lap was Raymond Porter and since then 20 other riders have joined the exclusive 130 Club.
The Present
Since 2010, riders in the 130 Club have received medals to commemorate their 130mph laps. Bruce Anstey is currently the fastest man around Dundrod, impressing with a 133.977mph lap time in the second Superbike race in 2010.
Five of the six fastest laps in the history of the Ulster Grand Prix were set in that very same race, with the exception being Michael Dunlop who increased his fastest lap in the second Superbike race of 2012.
Eight riders have completed laps of 133mph and they are Bruce Anstey, Guy Martin, Michael Dunlop, Keith Amor, Ian Hutchinson, Cameron Donald, Conor Cummins and Gary Johnson.
Bruce Anstey also holds another unique record. Since his debut in 2002, he has secured at least one podium at every Ulster Grand Prix meeting. He holds corresponding records at the North West 200 and the Isle of Man TT.
As well as being the fastest rider and being incredibly consistent, the impressive Kiwi also has ten wins at the event – making him the fifth most successful rider.
The active rider with the most wins however, is Guy Martin. The popular rider has 11 victories at the Ulster Grand Prix, including seven in the Superbike class.
He is now just three wins away from equalling Philip McCallen's 14.
Other riders who are still racing and have multiple wins include William Dunlop on seven, Michael Dunlop on six, and Ryan Farquhar and Ian Hutchinson, both on five.
Peter Hickman became the fastest ever newcomer to lap the Dundrod circuit last year, albeit setting his 131mph lap in the Dundrod 150 Superbike event. Previous fast newcomers include Lee Johnston, Dan Kneen and Dean Harrison.
It is Dan Kneen and Dean Harrison who gave fans the closest ever finish at the Ulster Grand Prix. In last year's Superstock race the gap was just 0.001s when Kneen crossed the line to take not only his first Ulster Grand Prix win, but also his first ever International victory.
The Dundrod circuit as it is currently raced features a number of great vantage points including the Joey Dunlop Grandstand at the start/finish area, Deer's Leap, Loughers, the Quarries and Dawson's Bend.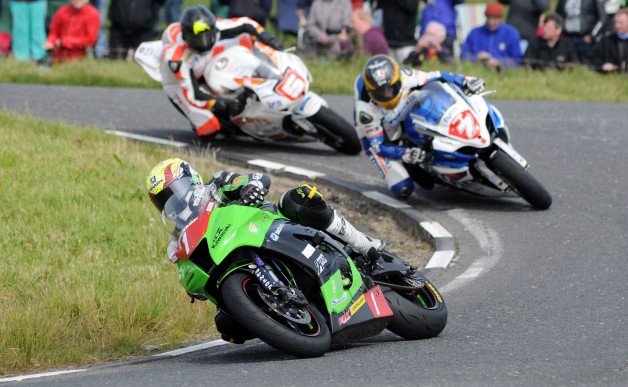 The future
Records are there to be broken, but Joey Dunlop's win tally looks safe for a while yet. The World's Fastest Road Race, however, could get even faster.
Bruce Anstey's lap record has now stood since 2010 and with the 2015 road racing season shaping up to be ultra competitive, could this be the year it goes?
And can anyone replicate Philip McCallen's feat of winning five races in a day back in 1996? Guy Martin has come closest having won four in 2006 – including his first ever International win – while Bruce Anstey, Ian Hutchinson, and Michael Dunlop have all won three in a day.
Honda is far and away the most successful machine at the Ulster Grand Prix with 137 wins between 1961 and 2014. Next up is Yamaha with 83, followed by Suzuki on 48.
BMW has a long way to go before it reaches those dizzying heights, but with so many front running riders on their bikes this year, they could certainly start increasing their win tally.