By Simon Toyne
Tributes have flooded in for Irish road-racing doctor John Hinds, who died following a crash during a practice session for the Skerries 100 on Friday evening.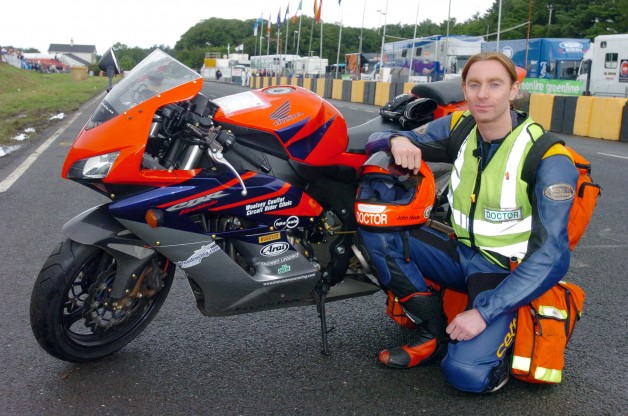 Dr John Hinds, an intensive-care consultant and anaesthetist at Craigavon Hospital, was taken to Beaumont Hospital where he succumbed to his injuries.
The 35-year-old was an experienced trauma specialist who was passionate about motorcycling in all its forms. He started riding in 1996 and joined the Motorcycle Union of Ireland as a volunteer motorcycle-mounted doctor where he became a popular and respected figure within the paddock, covering 4000 race miles a year.
The travelling doctor system provides lifesaving medical care to riders at Irish road race meetings. The circuits vary from three to nine miles in length; too long to staff with grounds crews like they do at BSB rounds, but too short to use a helicopter effectively like at the Isle of Man TT.
The nature of these courses also makes it difficult to have a fast first response worth a car or ambulance.
The 'flying doctors' chase the warm-up lap and opening lap of each race or practice session at each event as this is historically when most serious incidents tend to occur.
During racing they park up strategically in radio contact and with helmets on, ready to be scrambled immediately. Once on the scene they can assess, triage and begin treatment, and are backed up by response vehicles staffed by experienced doctors and paramedics.
Doc John is credited with saving the lives of a large number of cycle racers and became one of the sport's best known travelling medics, forming close friendships with many of the racers.
In a statement on their Facebook page The Motorcycle Union of Ireland said: "John suffered an extremely serious accident while providing medical cover at the Skerries road races and was taken to Beaumont Hospital in Dublin, but passed away earlier this morning.
"As a team and as friends we are naturally devastated, but our thoughts are first for Janet and the rest of John's family who were able to be with him at this time. We feel also for our colleagues on the Southern Medical Team and in the Beaumont who we know worked brilliantly and did everything they could to help him."
Noel Johnston, Clerk of the Course at the Metzeler Ulster Grand Prix said: "I still cannot take it in that we have lost one of life's unsung heroes. As a race organiser he gave me the strength and confidence to do what I do, and the reassurance when things go wrong and they sometimes do, that he and his colleagues in the MCUI Medical team were there.

"To think of the lives Doc John and his team have saved over the years and having watched him work with military precision at racing incidents, I am in total awe of the man. "Condolences to his family and friends and his colleagues in the MCUI Medical team. RIP Doc John."
I had the pleasure of interviewing Doc John three years ago at Skerries and was struck by his enthusiasm for bikes, racing and life, his professionalism and his dedication. RIP Doc.